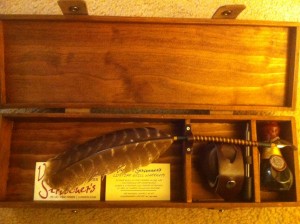 Am I really that fond of the sight of my own navel?
Isn't there something more constructive I could do with my time? Don't I actually have two other professions I could switch to, which would pay me more money? Don't both of them allow me the freedom to work for myself and set my own hours?
Hmm. I suppose it's a fairly serious question, especially at the moment–because I'm thinking about making a few changes in my methods for the coming calendar year. 'Cause, y'know, if I want to use different methods to achieve my goals, it helps to know not only what the goals are but also why they are. In case some other goal might be a better choice.
Let's be clear: I could be writing software or playing poker instead.
Among other possibilities, but these have been demonstrated to work. The way I approach software, I build solutions to problems. So…it helps people. It especially helps small-business folks, who are one of my favorite classes of people. Poker, on the other hand…hmm. Maybe it doesn't help anybody. In my early twenties I decided I was primarily an entertainer, and poker had helped me break out of my introvert's shell (to the extent that people who've met me in the last couple of decades don't believe I was ever in it), so I tried to make the games fun for my opponents. It worked–and I think it helped me win more of their money too. Which probably means something.
The thing is, I've learned a lot from reading fiction.
Some authors, back when I was a kid, were like extra parents to me. They provided me with role models. They introduced me to concepts and viewpoints I'd likely never have otherwise encountered. And, you know what? It's still happening. I change my mind about nearly everything every few years. It's a natural result of reading.
I want to help other people learn and grow.
The sheer chutzpah of that makes me smile. Who the hell am I? Who says I have anything in particular to offer? Frankly: nobody. I'm not asking permission, though, so that part doesn't matter a whole lot.
But I do, to the limit of my talents and skills, try to offer little tidbits to my readers. A character with an off-center view of the universe is not necessarily entirely wrong, you know. Maybe he's got a point. Or maybe he'll inspire somebody to slow down the snap-judgment machine when dealing with an actual person someday. Maybe not, too…but:
I'm addicted to epiphanies.
And they're hard to come by. They're especially hard to come by if I'm reading blog posts, answering email and the phone, talking to people, and generally doing what most of us do during most of our days.
Sometimes a book I'm reading will create a new world for me, though. It's the immersion that does it, I think. I'll go live in a different place, and when I come back I'll see everything just a bit differently.
Epiphanies happen a lot more often for writers than readers.
I don't actually have any evidence to back that up. But it's true for me, at least. When I'm writing a book, I can spend weeks or months in its world. There's a mystical sense of discovery involved. My fiction is not primarily the result of planning, even if I have an outline (which I mostly don't).
More: I can't write well or reliably unless I can be alone and undisturbed for hours at a time. Just the thinking-time alone is enabling for an epiphany-addict. My short stories are sometimes just off-the-cuff bits of play, but the novels? There's a lot going on in them. I try to write the things so they function on multiple levels.
Readers generally don't see what I'm trying to do, by the way. Or more accurately: they each see different bits, and they also see things I never will.
Storytelling is always collaborative.
I don't think this hits home until you've sent a story (or a novel) to ten beta readers and gotten their responses. It soon becomes obvious, though, that those people are reading entirely different books.
My wild-ass guess is that I get to tell about a third of the story. Readers make lots of assumptions, and they have their own experiences and filters. The other two-thirds comes from within their own minds and souls.
This actually matters, by the way. It's led me to realize a couple of things:
Readers' enjoyment (or whatever) is more strongly influenced by their own expectations than by the words I write, and
It seems I get a bit more slack–meaning I get to tell a bit more of the story–when what I write is a bit out of the ordinary.
Maybe this should have made the list above: I don't really know what to say when some readers try to tell me how a book should have been structured/written/ended–not so much when it's just floated as an alternative, but when it's presented as a fix for fundamental flaws. Because I left the flaws in, because I didn't care? Often it comes out in discussion that some other book was written a particular way, and the reader expected me to follow a well-worn path…regardless of whether I'd read the book they had in mind. I appreciate that they care enough to let me know. But that doesn't mean I can do anything about it.
Look, guys: I didn't write the book you're talking about in these situations–not the first one you read, and not really even the one with my name on it that you read while expecting something else. I'll never be able to recreate your viewpoint, so I'll never be able to read what you saw as "my" book. My stuff either works for you or it doesn't, and neither of us can do much about it. If it doesn't work for me, I don't publish it. And that's all I can promise on this front. Trying to "fix" stuff that seems okay to me is a fool's game. How do I know when I'm done? How do I know what I broke in the process? It's impossible.
So whom do I write for?
Everybody. Or anybody who will take the time to enter the worlds I create. My ideal readers come in two types, both of which are simultaneously easy and hard to find:
People who enjoy my stories as pure entertainment, and
People who analyze what they read–and pay me the compliment of assuming I did whatever it was I did on purpose, and then try to figure out why I chose a particular approach.
I'm capable of flat-out boneheaded mistakes, of course. And there will always be people who dislike anything I write. Maybe everything I write. That's okay, and kind of not the point. Some of you stick with me anyway. As I write, I'm having a conversation with you. It may appear a little bit one-sided, I suppose, since your own contributions are invisible to me.
Just so you know: it's imagining your contributions that makes this game so rewarding for me. I don't really care about the opinions of people who don't like my stuff (they can go elsewhere) or the people who think I should've written a different book (go find it and read that).
But people keep buying or downloading my fiction. Some of them (some of you) love it. And a few of you let me know. Even when you don't, I know you're out there…and wondering what you'll think helps me to challenge myself to improve. The beta readers who say "I really liked it but I was confused/made-unhappy by these particular things, and also it made me think of these other things"? They're pure gold.
If you'll stick with me–or if other people will; it's not on your shoulders alone–I'll keep doing this.
Just remember: I'm writing for you. And I'm always glad to hear from you.
Okay, I'm done. Have fun out there.