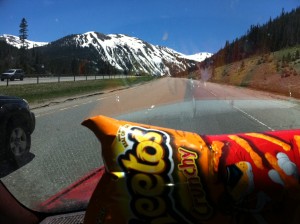 Okay, let me be honest here: there's a good chance I'm naked right now.
Still with me? Well, okay. It might not be true anyway. Thing is, there's something about the summer solstice that makes me want to throw a party. You know, outdoors. And maybe on a mountain. And nudity seems to fit the occasion. Doesn't it?
When I lived in Anchorage a lot of people would climb a local peak known as Flat Top. It's the kind of climb everybody but my mom and sister can do (yes, they chickened out, and yes I'm telling you about it). And there tended to be parties.
But I want to do something a little different this year.
It turns out I love playing around on Twitter. A lot more than I love Facebook. And it's not as if I don't get any value from it. Just yesterday, Troy Blackford tweeted thusly:
"You don't read so many stories about lost goldfish swimming their way across country to find their homes."
Well, he was right. And that's just wrong. So: I already had this notion of a story based on an odd twist on the Second Coming and a funny moment my wife and I experienced in a midwife's office in Las Vegas. And there was this other idea I wrote down about a guy who's haunted by the Spirit of Wal-Mart. Throw in virtual goldfish, screen savers, and…well, I haven't written the story yet. But as soon as I finish The Secret? I will, as a present to myself. Afterwards I'll go see whether Troy actually wrote a goldfish story and compare them (he didn't seem interested in my suggestion of an anthology, though its commercial appeal is obviously huge). Oh–this is not quite to my point, if I have one, but you should go check out his fiction. I hate his website with a profoundly disdainful passion, but his writing is wonderful.
Meanwhile a recent follower said something about what happens in September (unless it was What Happens in September…) and it occurred to me that it'd be fun to repeat that experiment this year. Would I have thought of it otherwise? Who knows?
And now we may be getting to the point, though in your position I'd be skeptical: another recent follower, upon receiving my auto-DM letting her know about a free download of Thursday Night Game, which I described as a fantasy/horror short story, told me she loved fantasy but hated horror. So…I appreciated the time she took to let me know, and I told her that if she browsed my site and found anything else she liked I'd send her a free e-copy.
At which point the light went on. This could be fun.
For 30 days starting today, I will give away one (1) free copy of any of my three normally non-free ebooks to whoever asks. And in any e-format requested. I could automate this, or just include download links, but I think doing this on a more personal level might be…well…cooler.
So. If you're here, and you find something that might be good? Leave a comment somewhere that strikes you as reasonable, or contact me via email, or DM me an email address and your selection on Twitter, or try smoke signals if that's your thing.
I'll assemble the necessary electrons and ship your mind-poison of choice to you within 24 hours. Just to be clear: I do not believe this creates any obligation whatsoever on your part. I will not re-use your email address for any purpose without your explicit permission to do so.
What I hope will happen? Well, reader feedback would be cool. Email works (you'll have my personal address), or website comments, or even an online review if you've got the time. If you really like whatever it is, you could subscribe to my new-release email list.
The main thing, though? I just want to do this, and do it inefficiently, and see what happens. Because I can. Oh, if you're brand-new to the site and have no idea who I am? I'm a relative newbie to indie publishing who's having more fun with it than really ought to be legal. Check out my list of most-popular posts on the left, and you'll get an idea of what I mean.
Looking forward to hearing from you.