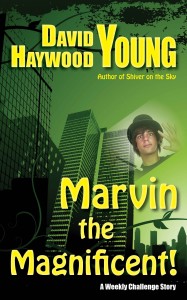 Continuing with my weekly challenge: I'll be posting a free story every Wednesday for the next year…if I can! This is story #3, ideally out of 52.
Did you like last week's story? You can find its new home, with retailer links (currently only Amazon but I'm going to be changing that–feel free to express a loud opinion on the subject if you have one) here. Seems to be settling in nicely.
Things took a funny turn this week. This is a story, all right, just as planned. But it may turn into more than that. A series of stories, a serial novel, a something that goes on past the end of this first entry. I have roughly 8.7 bajillion ideas for fun ways to take this. So…if you enjoy it, let me know.
Oh wait, I'm still typing! I should stop.
Marvin the Magnificent!
When I was a kid I used to read Robert Asprin's stuff. I was a big fan of Skeeve (well, and Gleep). More recently I've enjoyed Jim Butcher's Harry Dresden books. Oh, and then there's Archie Goodwin from Rex Stout's Nero Wolfe books and stories. What's the point of all this? Well, they got jumbled up in my head. And a character fell out.
Meet Marvin. He's a good kid. He means well, anyway, and that's something. Definitely out there trying to help people. Things don't always go his way…
Readers familiar with "Shiver on the Sky" may recognize a setting or a character here and there. It's all in fun.
[REDACTED 8/28/2014]
I'm making all my stories Amazon-only for a while. Their "Kindle Unlimited" deal is very nice for short fiction. I hate to leave people out if they prefer buying stuff at non-Amazon sites, but…(1) nearly all sales and downloads, for me, have always come from Amazon, (2) while I've had issues with Amazon, they've been very responsive in dealing with them, (3) I can't say that for any other online distributor (well, Smashwords is actually pretty nice), and (4) this may boost visibility at Amazon…kind of the core of my business. If you really really hate the idea, please let me know.