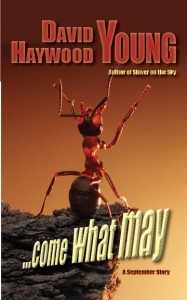 Okay, number seventeen. Which is a third of the way to 52, almost. But I don't really expect to continue the Weekly Challenge past today. Unless I change my mind.
On the other hand? I'll have a fun sort of announcement next week. I'm hoping for Wednesday, but we'll see. So stay tuned!
Meanwhile, here are the stirring words I wrote for this story when I first published it in the September collection:
I'd been reading Lord Dunsany, and I kind of liked the way he just threw words together. So the first part of this segues into, well, a bunch of words I threw together. It sorta works, but on the other hand the first section could go in a whole different direction later on if I want to write a science fiction novel. There are some neat ideas in it. As is? Well…I'd call it an experiment, except that you're supposed to be able to evaluate the results of those. With this, I can't.
On with the show!
…come what may
 If ants are our successors, can we still claim victory?

[REDACTED 10/12/2015]
I'm making many of my stories Amazon-only for a while. Their "Kindle Unlimited" deal is very nice for short fiction. I hate to leave people out if they prefer buying stuff at non-Amazon sites, but…(1) nearly all sales and downloads, for me, have always come from Amazon, (2) while I've had issues with Amazon, they've been very responsive in dealing with them, (3) I can't say that for any other online distributor (well, Smashwords is actually pretty nice), and (4) this may boost visibility at Amazon…kind of the core of my business. If you really really hate the idea, please let me know.