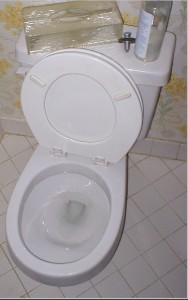 UPDATE: Well, look at the title. It happened.
Okay, I have to laugh at myself. There have been a few sales, but people haven't exactly had time to read the book. And my understanding is that the percentage of readers who'll actually post a review is somewhere around .001. So if I get many thousands of readers, I may (or may not) see a review posted.
In other words: not something likely to happen on the first day. Perhaps I should chill.
Anyway, publishing the thing was more fun than I thought it would be. I actually bought a copy (of electrons?) myself, just to watch it work. That may have been slightly goofy, but I'll bet everybody does it. Also, I kind of want to compare the experience to that of checking out a toilet after crapping in it. It was equally satisfying. Maybe even slightly better.
But: time to get busy with the next thing.
Finish writing Pagan Sex? Maybe toss some short stories onto Amazon…a collection? Or I guess I could do some actual work. Plus, I think I'm taking Brigit to the zoo this afternoon. Will she let me get away with leaving the stroller in the car? We'll see.