Ahh…that sound? It's the sound of focus.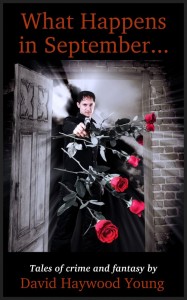 Which I can now, in theory, do. What Happens in September… is now out and available for purchase from Amazon.
There are some unfinished bits. As of this moment, the book listing is not tied to my Author Page on amazon, and there's a "From the Author" section that doesn't yet show up in the book's description.
Those things could be fixed any second…but Amazon says it could also be 3-5 days. So I'm telling y'all about the book now.
Here are some story descriptions I'm copying from Amazon:
The stories:
Saints Alive!  (in which Harry Saunders discovers a large egg in his bathtub)
Thursday Night Game (Jack Radney is…perhaps not quite normal)
Not for Hire (an assassin rethinks his approach to customers)
Freethought (it can be dangerous to let your mind wander on an airplane)
Accidentally on Purpose (concerning a train that needed to be stolen)
…come what may (if ants are our successors, do we still declare victory?)
Hard Roads (a trucker explains…the rigs are supposed to move)
So, please enjoy the book. Even if you have to request a review copy. Because, you know, I like reviews. And I like readers.
Thanks!