Okay, this one's a little strange, and probably reveals something or other about human nature. If somebody out there would like to explain to me exactly what it reveals, I'll be interested. FWIW it took me a while to decide what to do here. Days, even…though in my defense I was thinking about other stuff during most of that time. You know: Christmas and all.
Let me start off by saying I have a lot of sympathy for beginning indie authors: I'm one myself. Plus, I generally like schmoozing and related business practices, within what I consider to be reasonable limits. It's led to some great real estate deals up in Alaska…I've both given and received some fairly deep discounts just out of friendship. And I've saved a lot of money on car repairs this way. (Seriously: you should do this too. It makes a huge difference if you bring your mechanic an occasional six-pack, or just hang out and talk from time to time. Though you may have to really like people to pull it off.)
But…there are, or ought to be, limits. For example: some authors exchange positive reviews in the hope that it will improve sales. If the reviews are legitimate expressions of opinion, I have no problem with this. But so far I haven't done it myself, and I doubt it really works, and IMHO that sort of thing isn't too hard to spot anyway. Plus, Amazon has been cracking down on this practice lately, deleting reviews left & right–legitimate or not; Amazon worships the great god Algorithm and doesn't care about collateral damage. (None of my own reviews have been affected, but that doesn't mean it couldn't happen–others have what seem to be legitimate complaints.)
I originally intended to link to various phases of this deleted-Amazon-reviews mess, but I'm tired of it and don't want to bother. Lots of other people have said lots of stuff, okay?
Here's what happened to me:
An author offered to "friend" me on Facebook. I went along with it, even though I generally prefer to keep that sort of thing away from my personal account (I do have an author page, though it's basically a passive receiver of blog posts). We conversed, a bit. Not much.
One day I made a moderately snarky comment about spelling/punctuation. Yeah, I'm that guy.
The author responded with some humor, we got into a friendly discussion, and…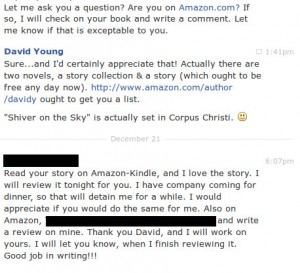 All right, this bugged me a little. Beyond the "exceptable" bit and odd comma placement, I mean–I have been forced to accept that fingers create odd fingerfehlers, though I wish mine at least would just cut it out.
Had the author actually read my book? I couldn't tell. I wasn't even sure which one he or she was talking about. I decided to wait and see what came next.
Meanwhile I had bought a copy of the author's book. I was very interested in the subject matter for personal reasons, and if I actually liked the thing, well…what the heck. (This morning I finally took a look and decided I couldn't have reviewed it even if we hadn't headed into the Twilight Zone…that grammar/spelling/punctuation thing again, plus pacing. And I don't like posting bad reviews, especially if I sort-of know the author. But others may well enjoy the book; its subject matter is fascinating.)
Then this happened: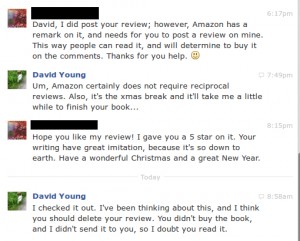 Excuse me, but wtf? I guess it's good my writing has great imitation. I mean, what if it didn't? What would that mean to my budding career? Possibly downloads would all be scrambled!
Seriously, this reads like email spam. Does the author have a sideline in composing it? How does that work? Is there money in it? Can I get some?
Anyway. There was no "Amazon Verified Purchase" label, and the review (of which I've kept a screenshot) recycles stuff others have said. There's one bit of extra info, but it's revealed in the free sample. Plus, I could obviously identify the book at this point and there had been no Amazon US sales of that title on that day. So, well, hmm.
I suspect the great god Algorithm will catch up with this author sooner or later, and even if I'm wrong he or she will probably get the sales/readers he or she deserves in the long run.
But I noticed: this author has a fairly high number of reviews (for a beginning indie with one book) and they nearly all give five stars.
I really don't know what the proper response is. Are newbie authors cowed into participating by the implied threat of review-withdrawal? I could go through the author's reviews, one by one, and try to identify/contact the reviewer. I could name the author here. I could contact Amazon.
I don't know if non-writers will immediately grasp just how strong this pseudo-threat can seem. For a lot of people…well, they've invested years of time, and a lot of self-image, in their books. They really, really want readers to give them a chance–but that's not actually within the writers' control. But…what if it could be? What if reviews could be managed? Wouldn't people suddenly realize their previous mistake of inattention, and provide all sorts of warm-fuzzies? It's a powerful lure.
In the end, though? I think this post is probably enough of a response. I can't police everybody else's business practices, and I don't think I should even try. Plus, again: I doubt this sort of thing will really boost sales over the long haul.
Still. It bugs me.