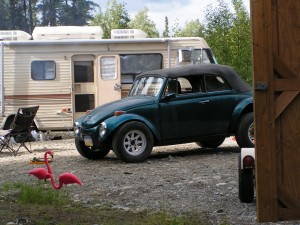 Which is what those of us who want to claim it's a lifestyle choice call living in an RV.
My wife and I have done it before, so don't worry. Heck, way back BM (before marriage) I had great fun with the thing…on a few acres in Alaska, without hookups. Through the winter.
Yes, I really did that. See? Proof!  —–>
(Note the bubble-wrap-mylar insulation in the windows. Very handy.) (And you gotta admit the flamingos are awesome.) (Did you notice the stove vent I routed through the passenger-side window?)
AM–you can figure it out–we haven't done that. Quite. But we have lived in an RV in Las Vegas. And Alaska again (sort of–we also have a cabin, and it wasn't during the winter either), and New Orleans, and Port Aransas, TX. And, obviously, points between. Many, many points between. Great stories there, and I may (lightly) fictionalize some of them for you later.
But we're not in the RV now, and also we're not planning to be. We lived in (or on) a boat in Alaska for a while, too, but that's not what I'm writing about now either.
So yes: everything I wrote above this line was basically a waste of your time. You're welcome.
Instead, I'm letting you guys know I'm closing the (virtual) doors of Cabin Fever Software & Brewing Company, LLC. The company has been a lot of fun for me, but 2013 will be all about writing new novels. So: my business sites & applications will be shut down in the next few days. All subscriptions have been canceled.
I hope to blog about novel-related (not just writing- or publishing-related) stuff as I go.
This year should be a lot of fun. I hope you'll stick with me.
Have fun out there.