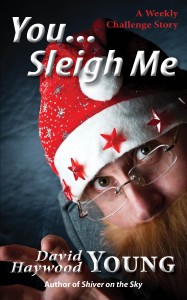 Well, here we go! As I discussed yesterday, I'll be posting a free story every Wednesday for the next year…if I can! Watch closely: there is clear train wreck potential here.
I'll leave each story up till Tuesday, then remove it and post the thing on Amazon. (If you really want to keep a free copy, I'm sure you can figure out how. There may even be a useful button just under the title of this post.) The following Wednesday, I'll include links to buy/review the previous week's story.
You Sleigh Me
For once, when the calendar nears its rollover point, Rick Santos finds himself in the Christmas spirit. The catch? That may not be a metaphor. Some days a guy just can't get a break…
Hi! This story's been published on Amazon's sites, so I had to take it down on the blog. Annoying, I know, but still…pretty cool how fast that can happen, isn't it? If you missed this one, there'll be another posted every Wednesday for a year.
Want to see the story's new home on this site, or find a link to check it out on Amazon? Here you go: You Sleigh Me
Have fun out there!