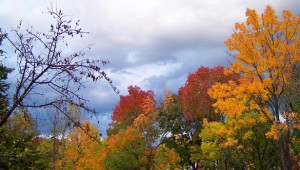 It's been an eventful few days. At least inside my head.
From the outside? I've been sitting in my RV a lot. Doing some writing, doing a lot of failing to write much of anything. Getting frustrated, because I knew I was sabotaging myself, but not sure how to fix it. Last night I packed stuff up and got ready to drive back to be with my family, on the theory that it was at least a change…even though I knew I was trying to make the two-hour drive into a stand-in for actual progress. I'm sneaky like that.
I suppose it sounds sort of awful (in a "first world problem" sort of way). It was and it wasn't. I think I needed to go through it to get to the other side, and I think I may need to keep going through it for a bit longer.
Let me back up and start again. Not too long ago, having noticed that I wasn't making reasonable progress on The Secret, I decided to try attacking the question of motivation straight on. In the past I've used Lawrence Block's "Affirmations for Writers" mp3 files, and they've helped. (Okay, it's goofy and hippie-dippie and all, but I like stuff that works.) But…they weren't quite cutting it this time.
So I paid some money to get access to Dean Wesley Smith's online videos on motivation for writers. I'd summarize 'em here, but they really worked and I don't want to remove other people's motivation to pay him for them…really, they're quite cool.
The videos inspired me to come up with my Weekly Challenge. Well, here's a secret: this particular challenge doesn't feel like much of a stretch to me. It doesn't take all that long to write a short story once I get going (yesterday's freebie took about half a day). But if that's true, why don't I have lots more written? Hmm?
Simple: because I haven't (previously) built the sort of scaffolding I need. For instance: I have no idea what next week's story will be. But I know I'll do it, because I don't want to make myself more of an idiot than I need to in front of you guys. So…how do I do that for novels too?
Well…my wife and I agreed: I'll send her a first draft of next week's story tonight, even if it's really really rough. And then I'll stay here in the RV until I actually complete a first draft of The Secret. Since I miss my family…I'd say it'll be a few more days, but not longer.
After that, I'll make a new cover for Shiver on the Sky (because I know a lot more about covers than I used to), and I'll update the book's Afterword to tell readers exactly when to expect its sequel. Then I'll do a promotion for it that'll get the thing into some people's hands…and I'll have built some scaffolding in which I can actually work. Along with the published arrival date? I'll tell everybody: if I don't hit my target, the book will be free.
That'll get me going. I'm pretty sure.
See, I love writing. But sometimes it can be a long slog, with gratification seeming to be infinitely delayed. Because, duh, it's work. And I'm often a lazy bastard. So…imagine a long walk through the woods, way past the point when you're tired, when you have plenty of available campsites and all the gear you need to be comfortable. And maybe a nice book to read. Now compare that to: a long walk through the woods, rainclouds coming, it's getting cold, you're worried about what happens if you can't get to your destination in time–but when you do get there you'll be comfortable and maybe get a cookie. The point is obvious.
I need the drama to make myself actually care about a work schedule. I need scaffolding. My wife and I agreed: I will never again take on a book-length project without putting something in place to help me get to the finish line. It's just too damn easy to drift. (And also to mix metaphors.)
So…I could make some sort of grandiose claim about a series of novels here, in conjunction with my Weekly Challenge for short stories. But frankly? It wouldn't have any teeth. Novels take too long, and people easily excuse a writer for taking a while to complete them. Hell, they think a book might be better if it takes longer to write (though I very much doubt this notion is valid).
Specificity. Scaffolding. I should come up with another word that starts with an 'S' here. (You'll never know how many rude comments I just deleted. Feel free to make up your own.)
Okay. That said, what's up with the title of this post? Just this: I have a bunch of ideas about the next year. Some I'm ready to talk about, some I'm not. I'll have to take a lot of time away from my family to do all the things I plan to do, or even most of them. And, you know, I'm a writer. So…there's this: I'm planning a nonfiction book about it all. My goals, semi-secret and otherwise. Strategies. What worked and what didn't, what my expectations were along the way and how they were or weren't met. What problems arose, what problems I built up in my head but in reality turned out to be paper tigers. (I just like the idea of stuffing paper tigers into my head for some reason, so that last bit's gonna stay.)
Sounds like fun to me. And maybe it'll be a little bit of extra scaffolding/motivation for me when I get to the tough parts. We'll see.
Meanwhile I've got a story to write. Have fun out there!