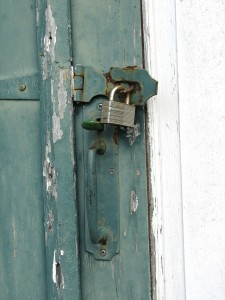 I'm posting this for readers who aren't familiar with DRM ("digital rights management") and other forms of customer lock-in that I think are (un)fairly egregious.
It's tempting to say stuff like "nobody should fall for that" or "caveat emptor" when these topics come up, but here's my take: There are lots of things everybody should know, and nobody has time for all of them. So if this is new stuff for you, or you'd like to see if I have something interesting to say…read on. Or if you think I'm full of…beans?…and think it might be fun to argue in the comments, I'm up for that too.
Essentially, DRM:
Introduces technical barriers to reading/converting/storing digital content
Often ties a customer's purchase to a particular piece of hardware or software (and thus a particular vendor)
Suffers from obsolescence, meaning that purchased content often becomes unavailable through no fault of the customer
Is the subject of legislation/interpretation in many countries, meaning DRM removal (even by a legitimate customer who actually paid for the digital product) is often illegal
Is touted as a means to combat piracy, but in reality encourages it–because so-called "piracy" becomes more common when digital works are not easily available through other means
Truthfully I go months at a time without thinking about DRM. But the other day Mark Coker from Smashwords posted about a new subscription-based service called Oyster. Some background: Smashwords is used by many authors & small publishers (including me) to distribute ebooks. Smashwords is in the habit of automatically opting in all works to all new distribution channels.
So here's the first problem that occurred to me: Oyster is a "closed reading environment" (per Coker in the comments to his post). The semi-neat idea behind the service is that readers get an all-you-can-read subscription for $9.95/month, and authors/publishers get paid only for the actual books read–probably not including reader abandonment during what other retailers would call a "free sample," and not even necessarily even paying the publisher for an entire book if it's not completed (merely one of several unknowns at this point; Oyster isn't saying).  Regardless of exactly how the payment to publishers is structured, it's a potentially cool way to keep reading affordable and reward those who actually pull readers all the way through their books. But:
This means Oyster is keeping track of which pages people read, which strikes me as somewhat creepy (though, yeah, I know…privacy is outdated)
The ebooks are "protected" by the nastiest form of DRM I know of: they can only be read within Oyster's application. Meaning that if Oyster stops supporting the app, or you want to use an older device and the app becomes restricted to newer hardware/software, you lose access entirely
You will be able to read only your last ten downloads offline. This is the real deal-breaker for me. See, once you've read an entire ebook, the publisher of that ebook gets paid (I don't know how much; Oyster is keeping that close to the vest right now, but the principle remains). So I see no reason why the reader shouldn't be able to download a DRM-free version of each ebook for offline reading at any time. They're creating an artificial scarcity that benefits neither writers nor readers…and I don't like it.
There are other reasons to decide against Oyster, but they come down to nit-picking: they'll be good for some readers and not so good for others. If Oyster changes its stance on DRM I may decide I like them quite a bit. If not…not.
So okay, I opted out of Oyster. Fine; nobody but me cares at this point. But it turned out Smashwords is also distributing books to Sony (which I knew) and Sony applies DRM (which I didn't). Could I have known this? Sure! There are lots of things I wish I'd known all along. But the Smashwords FAQ, which takes a laudable stance against DRM, does not at the time I write this mention that any of the retailers it distributes to apply DRM (I'm hoping they clarify things). At no time in the process of publication of an ebook do they make this clear. Here's the thing: I am not willing to allow any reader of my stuff to get into hot water for something as innocuous as converting a file to another format. Or sharing it with a friend, either. So if you have a DRM-encumbered copy of anything I've written? Send it to me. I'll send you a DRM-free version, which you can then copy, convert, and back up without any legal ramifications. And I've pulled everything from Sony, though that probably won't take effect immediately.
Okay, fine, that's dealt with. But…did you notice the Smashwords FAQ also says that ebooks it distributes to libraries have DRM applied? That sucks! I had separate pricing for all my stuff so it would be absolutely free for libraries! I don't know that any of them took me up on it, but under the circumstances I can't see a valid argument for DRM. So, in spite of the fact that I love libraries and I think there are great opportunities there for readers and publishers alike? And even though I would like them to have free access to everything I write? I pulled my ebooks from library distribution.
If you're wondering: No, I don't think any of these retailers/distributors/libraries/legislators care about my opinion. Doesn't mean I don't have one, or that I think this DRM business (or "industry") is defensible on either practical or ethical grounds. So I won't play. If you're a writer or publisher, I hope you won't either. I'm sure you're a reader…so I hope you'll be selective about where you get your fix.
Have fun out there.