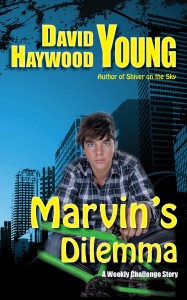 Well, here's #7. Out of 52, I say with a certain amount of dread. Stuff happened this week, and I barely got this done in time. Plus I had to remove parts of it for now because this story just wants to grow and grow.
In other words? Marvin's back, in this sequel to Marvin the Magnificent! 
If you haven't read the original, you might want to give that a look first. Of course it's totally optional. In fact it might be more fun to read this one first for all I know. Possibly even backwards, while searching for demonic messages. Or mnemonic dressage, which might mean something but probably doesn't.
The point if any is that I'm done and the rest is up to you.
Marvin's Dilemma
In this second adventure of Marvin Carter (aka "Vin Crypto") we learn that we didn't really know what was going on in the first installment. But don't blame Marvin–he didn't know the full story either. In fact chances are good he still doesn't, but he's still plugging away. Trying to make sense of the new world he's discovered.
Like Columbus, sort of. Only there may be a happier ending eventually. Not to imply anything.
[REDACTED 8/28/2014]
I'm making many of my stories Amazon-only for a while. Their "Kindle Unlimited" deal is very nice for short fiction. I hate to leave people out if they prefer buying stuff at non-Amazon sites, but…(1) nearly all sales and downloads, for me, have always come from Amazon, (2) while I've had issues with Amazon, they've been very responsive in dealing with them, (3) I can't say that for any other online distributor (well, Smashwords is actually pretty nice), and (4) this may boost visibility at Amazon…kind of the core of my business. If you really really hate the idea, please let me know.