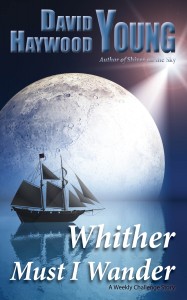 So here's the sixth Weekly Challenge story. Starting to think I can actually pull it off and do 52 of 'em? Me too. But hey, now I may have jinxed myself!
This story is dedicated to McGinty's Public House in downtown Silver Spring, MD—and their plentiful supply of Starr Hill IPA, from which much inspiration did spring (Panera Bread having yielded little but scorn for my writing implement of choice, though it was delivered alongside an excellent sort of caffeinated bliss).
And also to Bonham, TX, from whence much real-world evil. Long story there, or several of 'em.
On with the show!
Whither Must I Wander
Jake's just an average guy. Or at least he used to be. Sometimes it's impossible to escape the past–and sometimes other people think whatever's happening is brand-new, no matter how old the story truly is. All too often, trying to explain will only make matters worse.
And chances are nobody's listening anyway. Which might be exactly what you want…
[REDACTED 8/28/2014]
I'm making all my stories Amazon-only for a while. Their "Kindle Unlimited" deal is very nice for short fiction. I hate to leave people out if they prefer buying stuff at non-Amazon sites, but…(1) nearly all sales and downloads, for me, have always come from Amazon, (2) while I've had issues with Amazon, they've been very responsive in dealing with them, (3) I can't say that for any other online distributor (well, Smashwords is actually pretty nice), and (4) this may boost visibility at Amazon…kind of the core of my business. If you really really hate the idea, please let me know.