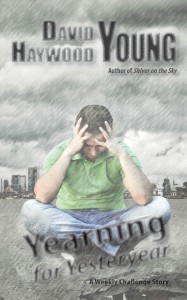 Here's story number five (out of a possible eventual fifty-two) in my year-long Weekly Challenge!
I'm trying something new this week. Okay, a couple of things. First, I use language a bit differently, or at any rate my protagonist does. Second…this one may or may not have a happy ending. But you get to choose for yourself!
How's that work? Like this: I wrote a story I enjoyed telling myself as I went along, as typically happens. Then I heard from beta readers that it was well-written but depressing. Now…fact is, I pretty much giggled my way through writing the thing. But tastes differ. So there I was, lying in bed around midnight, and I woke up with an idea that wouldn't leave me alone. I got up, went back to the computer, typed some more, cackled a bit maniacally, and mailed it off to people–asking them to let me know whether they thought I should attach my new final scene.
Then? A reader asked if I could just do it both ways. And of course I could! But I hadn't thought of it. So here's the original story. If it makes you sad, or you're just curious, I follow it with an entirely optional addition.
I figure that way it should please damn near everybody. Right?
Yearning for Yesteryear
In this one I play with some post-Apocalyptic tropes. I wanted to write from the perspective of a guy who doesn't automatically know exactly how and why his world changed–because frankly it bugs me when I read a story in which people do. Generally they wouldn't, would they? They only see what happens right next to them. Unless they're on Twitter, of course.
So Thomas Carruthers knows he's in a tough spot, but he has no idea just how bad his position truly is…
[REDACTED 8/28/2014]
I'm making all my stories Amazon-only for a while. Their "Kindle Unlimited" deal is very nice for short fiction. I hate to leave people out if they prefer buying stuff at non-Amazon sites, but…(1) nearly all sales and downloads, for me, have always come from Amazon, (2) while I've had issues with Amazon, they've been very responsive in dealing with them, (3) I can't say that for any other online distributor (well, Smashwords is actually pretty nice), and (4) this may boost visibility at Amazon…kind of the core of my business. If you really really hate the idea, please let me know.