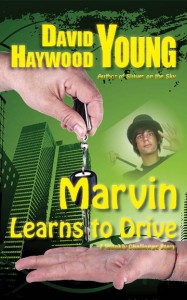 Well, here's another one. And it's Marvin, who's back on the blog after too long an absence.
Too long according to whom, you might ask. Well, to me. I like the guy. He's fun to write about. His stories seem to go by quickly (again: for me) even though they're about twice as long as most of the others. Which is not a bad thing. I think.
I'm not totally sure I'm going to keep publishing all these stories beyond posting them here, especially installments of Marvin's and Destiny's (I'm currently planning to post Destiny's next bit next, by the way), so…well, I may stop creating covers for them. So I'll admit up front: I didn't work too hard on this one. For what it's worth, it's actually the same model with his hand out. So there's that.
As for why I may not publish all the stories elsewhere? Well, I'm fairly sure Marvin and Destiny will end up as full-length books. So that'll be fun, and there's not much point in having them out in bits and pieces first. 'Course I might be wrong about all of that. There's no need to decide right now.
Meanwhile, on with the show! 'Cause you're probably here more for Marvin than for me. Aren't you? It's okay; I don't mind.
Marvin Learns to Drive
I strongly recommend reading the earlier Marvin stories (pages are here and here, currently with links to the blog posts). But that's just me talking, and I could be wrong. If you've done that, I don't think this one needs much of an introduction. If you haven't, I'm curious to hear what you think of it without one. Also I'm well known to be almost unbelievably lazy. Science can not explain it, but there it is. So here's the story.
[REDACTED 10/12/2015]
I'm making many of my stories Amazon-only for a while. Their "Kindle Unlimited" deal is very nice for short fiction. I hate to leave people out if they prefer buying stuff at non-Amazon sites, but…(1) nearly all sales and downloads, for me, have always come from Amazon, (2) while I've had issues with Amazon, they've been very responsive in dealing with them, (3) I can't say that for any other online distributor (well, Smashwords is actually pretty nice), and (4) this may boost visibility at Amazon…kind of the core of my business. If you really really hate the idea, please let me know.