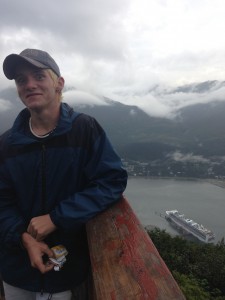 Howdy!
Say hi to Danny on the right, if you'd like. He's visiting for a few weeks. Very cool! Earlier Sunni came to see us, which was also very cool.
I haven't posted much here for a while. The kids are part of the reason. You'd think the polyphasic sleep thing would give me lots of free time, wouldn't you? And you'd be right. But:
Also we spent a few weeks at our cabin near Wasilla
And I'm working to learn more about ebook formatting, because the times they are a-changing
And I've removed most of my stories from non-Amazon locations, because of their Kindle Unlimited offer
And, you know what? There's stuff going on. Hell, I even bought a violin.
IOW, this post is sort of a non-post, here primarily to assure you that all's well. I'm still sleeping polyphasically, still suspicious of the common wisdom among practitioners thereof, still writing, still planning 30 days in Vegas and a book themabout (hey, it's my blog), still just bopping around up here in Alaska.
There's enough above to spark a bunch of blog posts. I might even do one on how I'm using Evernote and Dropbox to keep things organized, and possibly write a bit about how we're hoping to remove lots of physical clutter from our current abode (while bringing huge amounts of crap, most of it traveling thousands of miles in the process, to that same abode), and…you know what?
I have stuff to do. I hope you do too, and would love to hear about it. But I gotta get back to work for now.
Have fun out there!