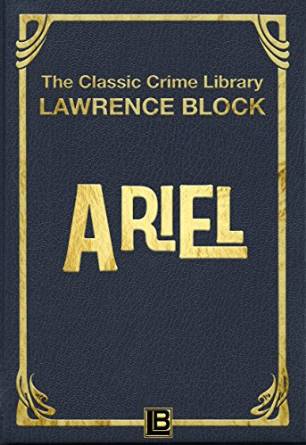 I know. It doesn't seem as if it should be hard to qualify for this. After all, how many books do I read in a week? (Probably 10 or so, if you're actually curious and not just criticizing my post's title for fun.) But I'm actually pretty damn picky about which books those are. I don't keep reading if I'm bored…
Regardless, this one was truly exceptionally cool. I don't want to spoil it for you…but it surprised me. Several times.
Disclaimer: I've been a Lawrence Block fan for years. Decades, even. I went to a book signing of his about 20 years back, and I can report that his self-deprecating humor was exactly what you'd expect…
More than that? I've benefited enormously from his books on writing. I've even used his "Write for Your Life" affirmations…meaning, yes, I had them playing over and over while I wrote and slept. (I'd probably do that still, but I lost the copies I downloaded. Might invest ten bucks in re-acquiring them at some point.)
So, all that said? I hate to say this next bit…but I'm a much bigger fan of his more recent work. By "more recent" I generally mean the books he's published in the last…oh, I don't know…30 years or so. Ariel is older than that.
But it's amazing, in spite of my probably-stupid generalization above. Ariel is…well, it doesn't easily fit into any sort of genre boundaries. In fact accurately fitting it into a genre would ruin much of the suspense. Occult? Crime? Coming of age? Maybe!
It doesn't hurt, given my own recent interest in foster parenting, that the story involves an adopted child…but maybe that won't matter much to most of you who read this. It's astoundingly (why am I so surprised, again?) well-written. It kept me up late. I'd like to share it with you.
Want something different? I don't care what you've been reading; this one's different.
Truly a wonderful book. Go buy it if you've a mind (heh), or get it via Kindle Unlimited. Since it is in Kindle Unlimited, you'll have to get the ebook from Amazon. Print versions are likely more generally available.
I thought about posting a review on Amazon. But, as an author myself, I have to be at least slightly careful about that. The 'Zon's review policy is, at best, a confusing mess. So I'll just post this here, and maybe I'll do a bit more of this reviewing-stuff in the future while I'm at it.
Hey, do you folks have favorite books you think I might want to read? I'd love to hear about them. In spite of all the fiction available, my Kindle still runs dry…
We'll see how it goes. Meanwhile, have fun out there!