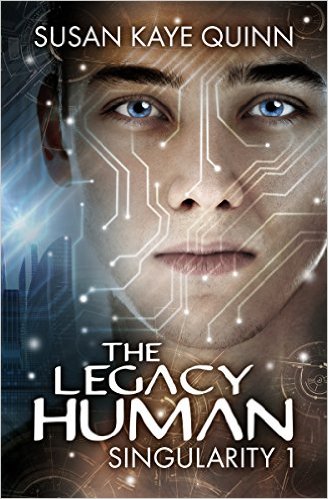 Yo!
I've been reading Susan Kaye Quinn's books for a while now. I'll tell you up front that I think she'd benefit from a copyeditor. Or maybe a second copyeditor, because I think she already pays one. Nothing too horrible, but there are occasional misused words that throw me off.
On the other hand, she tells great stories, and readers appear to love them. Me too!
This one is science fiction, but there's not a lot of actual tech in it. If you switched the "singularity" stuff (this is the first of her Singularity series) and said it was about elves and magic? Not much in the plot would have to change.
Reading over that, it seems like more criticism. It's not. Quinn pulls readers (or at least me) right in, and it's hard not to care about her characters. I don't even try. I just live in her worlds for a while, and think about them, and have a blast.
She's also written a couple of books about indie publishing, which I encourage you to check out if you're into that. It's odd, but I don't hear other people talking about how good they are. Thing is? I think they're very possibly the best resource for indies out there.
Back to The Legacy Human. Here's the description from Amazon:
What would you give to live forever? Seventeen-year-old Elijah Brighton wants to become an ascender—a post-Singularity human/machine hybrid—after all, they're smarter, more enlightened, more compassionate, and above all, achingly beautiful. But Eli is a legacy human, preserved and cherished for his unaltered genetic code, just like the rainforest he paints. When a fugue state possesses him and creates great art, Eli miraculously lands a sponsor for the creative Olympics. If he could just master the fugue, he could take the gold and win the right to ascend, bringing everything he's yearned for within reach… including his beautiful ascender patron. But once Eli arrives at the Games, he finds the ascenders are playing games of their own. Everything he knows about the ascenders and the legacies they keep starts to unravel… until he's running for his life and wondering who he truly is.
Sound good? Well, it truly is good. Want something different, in a YA SF semi-dystopian sort of vein? Here it is. Give it a try?
Note: the link goes directly to Amazon, as The Legacy Human is in Kindle Unlimited at present.
Have fun out there!
(New-fiction word count: 523. Okay, not wonderfully high. I do like where the new story is going, though…)