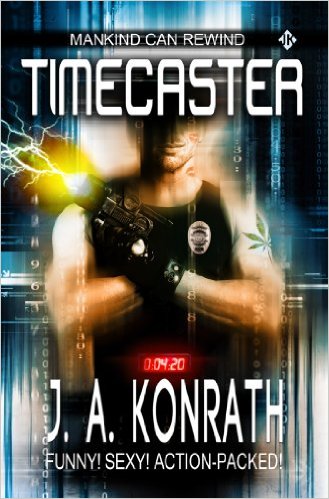 J.A. Konrath, aka Joe Conrath, aka Jack Kilborn, is a heck of a guy. An "indie" superstar, he's gone out of his way–many times–to help other writers. On top of that? He writes good books.
Most of his fiction is in the mystery/thriller range. But my favorites are his two Timecaster novels. Which probably says something or other about me, because these novels are campy, full of gratuitous and often weird sex, completely ridiculous, and…well, fun. Konrath describes them as "ecopunk," which I think is almost irrelevant to their appeal. But maybe that's your thing?
It may help if I tell you I'm also a fan of B-movies. Science fiction, horror, whatever. These books are just like 'em. Except that I actually prefer books to movies…
Quoting the description:
Talon Alalon is a timecaster—one of a select few peace officers who can operate a TEV, the Tachyon Emission Visualizer, which records events (most specifically, crimes) that have already happened.
With crime at an all-time low, Talon has little to do except give lectures to schoolkids—and obsess on his wife's profession as a licensed sex partner.
Then one of her clients asks Talon to investigate a possible murder. When Talon uses the TEV to view the crime, the identity of the killer is unmistakable—it's him, Talon Avalon.
Enough said? Probably. But I'll also point out that Konrath has collaborated in the past with Jeff Strand, whose book I reviewed yesterday.
I'm linking to a page on Konrath's site instead of to Amazon, because he sells autographed copies in both print and digital formats. And besides, I should probably link to authors' sites rather than retailers anyway. I'm still figuring this "book review" thing out. But–here's my only spoiler–Timecaster is also available via Kindle Unlimited.
Try it! I'll bet you'll be glad you did. I mean…in these books, I swear, if Konrath were talking about a tube of toothpaste, and if it were a completely standard tube of toothpaste indistinguishable from any other, he'd probably call it hyper-toothpaste just for fun. What's not to love?
Have fun out there!
(New-fiction word count: zero. I got involved with a different project last night, and will probably be busy with it tonight too. It's not good for the writing to let it get derailed like this, but sometimes life happens.)